HABITS TO BENEFITS
Building a Brilliant Child
Is Ready for Orders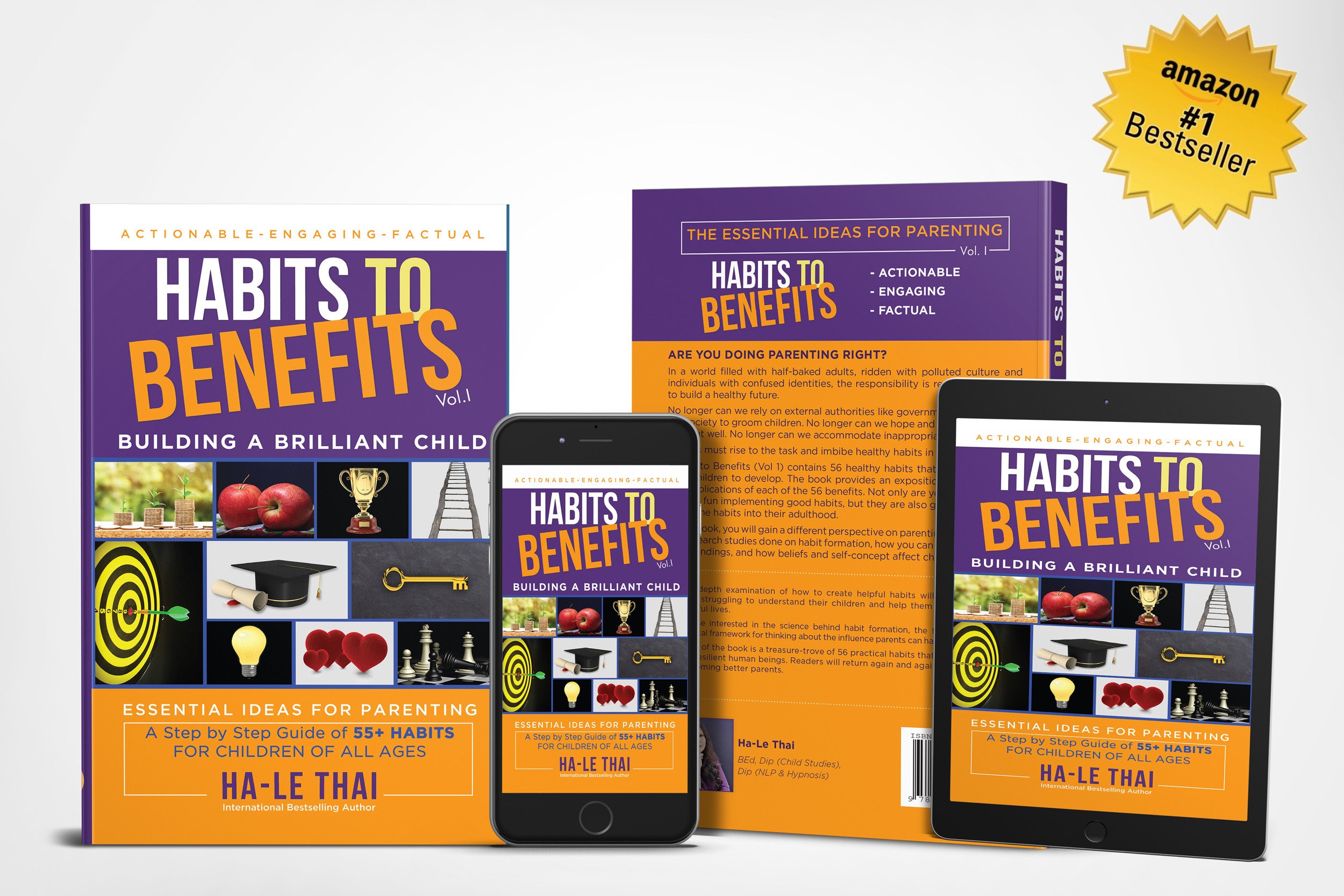 Are you doing parenting right? 
In a world filled with half-baked adults, ridden with polluted culture and individuals with confused identities, the responsibility is resting on parents to build a healthy future.
No longer can we rely on external authorities like governments, schools and the society to groom children. No longer can we hope and pray that children turn out well. No longer can we accommodate inappropriate parenting. Parents must rise to the task and imbibe healthy habits in their children.
Habits to Benefits (Vol 1) contains 56 healthy habits that parents can help their children to develop. The book provides an exposition on the benefits and applications of each of the 56 benefits. Not only are your children going to have fun implementing good habits, but they are also going to be able to retain the habits into their adulthood.
In this book, you will gain a different perspective on parenting. It will show you the research studies done on habit formation, how you can take advantage of these findings, and how beliefs and self-concept affect children's behaviour.
What experts are saying about 'Habits To Benefits'

This in-depth examination of how to create helpful habits will be a life-saver for parents struggling to understand their children and help them lead happier, more successful lives. For those interested in the science behind habit formation, the first section offers a theoretical framework for thinking about the influence parents can have in early childhood. The rest of the book is a treasure- trove of 56 practical habits that will help parents to create resilient human beings. Readers will return again and again to seek inspiration for becoming better parents.
Ha-Le Thai's book HABITS TO BENEFITS is a fascinating read. Ha-Le draws you in with her wealth of knowledge and experience yet strengthens her approach to parenting with education and scientific research. As a parent, I instantly saw habits I can work on with my child in a practical way. I feel this book will be a reference manual for many parents, one of those books that you go back to again and again, depending on the circumstances you find yourself in with your child/ren. I highly recommend this wonderful book as it is a life-line for parents who may feel they are struggling or who just want to reinforce positive habits HABITS TO BENEFITS helps you create a strong foundation for your child's life and will give you the added benefit of strengthening the bond between parent and child. The rest of the book is a treasure- trove of 56 practical habits that will help parents to create resilient human beings. Readers will return again and again to seek inspiration for becoming better parents.
"Habits to Benefits – Building a Brilliant Child" is a must read for all parents wishing to raise happy, confident, compassionate and kind children with a bright future. Ha-Le is a source and wealth of knowledge in her experience as an Educator. I was blown away by her words and practical tips. There are so many habits that I have learned that I will apply to my parenting and I am confident will positively impact my children and their future. Ha-Le is a true gift.
You are always trying to hone this job of parenting, right? What I loved most about Habits to Benefits is that it provides practical exercises and activities based on science and results. Nothing is left to chance and, even though the author's tone might be brisk, we are presented with solid facts.
The author takes the time to explain the concept behind every theory. There is no absolute truth to anything as, well, children are definitively not a one-size-fits-all. But the ideas are well presented and I believe this is something that every parent should read. You can see that Thai is knowledgeable and through her own experiences takes us through tips and lessons on how to create good habits on our children.
Take a look as I am sure there is a thing or two right there that will make you say, "hey, I had not thought of that!"
Having worked in the field of childhood education for 25 years, the author has a solid background in determining what kinds of habits would help build a great foundation for your children to become successful adults. Broken down into two main parts and a conclusion, this book gives us as parents first a framework on which we can base the fifty-plus habits. Giving us the definition of key concepts as well as how to understand and use them was very beneficial to me. Some of the habits presented are ones we already practice at home such as being kind and reading good books and sharing. Other habits, I knew about but was admittedly lacking in enforcing them around the house. I figured, my kids are all still young, so I had time yet, but the author makes some good points in the chapter that talks about the importance of the early stage. Overall, this has some new and some old information, but it is presented in a easy to understand manner and I will certainly be using the book as a guide over the next few years to help my family build good habits.